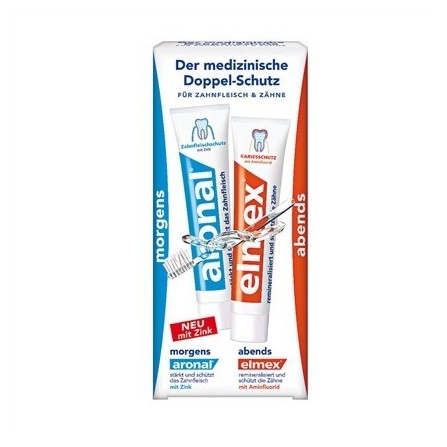 Elmex + Aronal Duo
This product is no longer in stock Warning: Last items in stock!
| | |
| --- | --- |
| Manufacturer: | Gaba |
| Brand: | Gaba |
| Origin: | Germany |
| Heat sensitive: | No |
| Shipping from: | USA |
| Expiration date: | 9.2019 |
The minimum purchase order quantity for the product is 1
Availability date:
elmex dental hygiene kit 1x elmex +1 x aronal: 
A coherent concept - the medical Double protection: 
Morning aronal ® with Zinc & evening elmex ® with Aminofluorid offer specific protection for gums and teeth. 
The requirement for your oral health - for a lifetime. 
aronal ® forte toothpaste strengthens and protects the gums and clean teeth and fresh breath for the day. During the day, the activity of plaque bacteria is by eating and drinking, but mainly by food containing sugar, increased. With aronal ® forte toothpaste bacterial plaque (plaque) are equal to the morning away gently and thoroughly. aronal ® forte toothpaste with vitamin A protects against bleeding gums and - inflammation. Sensitive gums remains taut and firm, an important prerequisite for the maintenance of the natural teeth. 
elmex ® remineralize and strengthen overnight tooth enamel. Aminofluorid promotes the formation of mineral deposits, which hardens the tooth enamel by nocturnal re-storage of minerals. Your teeth are more resistant to decay. 
medical protection for teeth and gums 
morning aronal with zinc 
elmex evening with Aminofluorid