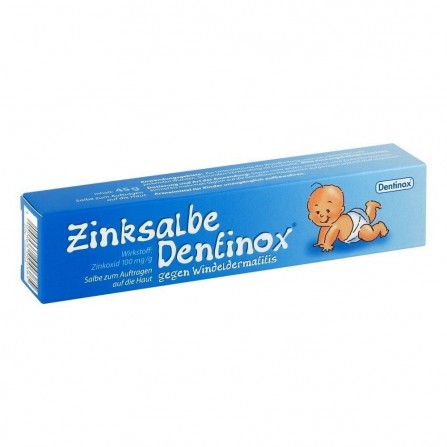 Dentinox Diaper Cream
Warning: Last items in stock!
| | |
| --- | --- |
| Manufacturer: | Peanten |
| Brand: | Dentinox |
| Origin: | Germany |
| Heat sensitive: | No |
| Shipping from: | USA |
| Expiration date: | 12.2021 |
The minimum purchase order quantity for the product is 1
Availability date:
For a sore and inflamed baby butt, the zinc ointment from Dentinox® is a proven helper.
Especially in the first months of life reacts your baby's butt to certain foods or particularly sensitive to diseases. Especially in newborns, the acid mantle of the skin is not yet mature and therefore more prone to inflammation in the diaper area.
The zinc ointment promotes rapid healing with its contained active ingredient zinc oxide at first redness, but also in the very unpleasant to painful diaper rash. In addition, it has a disinfecting effect. The zinc ointment from Dentinox® forms a thin, protective film on the skin, protecting the butt from moisture. In addition, the ointment removes moisture from the weeping wounds and soothes the itching. The ointment is particularly kind to the skin and contains no preservatives.
45g