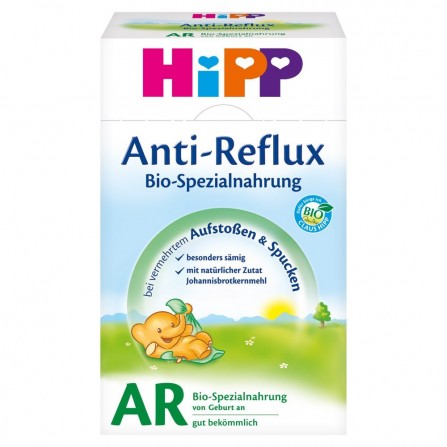 HiPP AR Anti-Reflux Organic Baby Formula
Warning: Last items in stock!
| | |
| --- | --- |
| Manufacturer: | HiPP |
| Brand: | HiPP |
| Origin: | Germany |
| Heat sensitive: | No |
| Shipping from: | USA |
| Expiration date: | 7.2018 |
Availability date:
Country as labeled: Germany
Package contents: 500g
Age range: Suitable for newborns and older
Made for babies with reflux
Hipp Organic Anti-reflux organic specialty foods AR: 
- Dietary foods for special medical purposes (balanced diet) - 
If babies after meal with the burp burp back some food, this is completely normal. However, some babies spit a lot more than usual, or a gush. 
AR Hipp Organic specialty foods helps with regard to increased belching and spitting. 
By adding the natural source material locust bean gum AR Hipp Organic specialty foods is especially thick and ensures that the food remains in the stomach better. This is the food reflux into the esophagus (gastroesophageal reflux disease) and thus reduces the belching and spitting. 
For a healthy development of your baby 
HiPP Organic AR contains special food as well: 
all the essential nutrients 
natural lactic acid bacteria, which were originally obtained from the mother's milk. Breast milk contains a variety of probiotic cultures, which may vary in individual patients. 
long-chain polyunsaturated omega 3 & 6 fatty acids (LCP), as contained in breast milk. They are particularly important in the first months of life because babies at this age itself can not produce sufficient LCPs. 
Locust bean gum is a valuable, natural fiber. Therefore, it can organic specialty foods come in softer chairs in the transition to HiPP AR.
Preparation
Boil fresh water and let it cool to about 104-122° F (40-50° C).
Put 2/3 of the prepared water into a bottle.
Fill loosely the measuring spoon and remove the rest of powder. Put the recommended amount of powder into the bottle.
Close the bottle and shake it very well.
Add the remaining water, shake it again very well several times.
Let it cool to drinking temperature (about 98.6° F). Check the temperature.